Dr. Eric Effertz
Finding the Right Path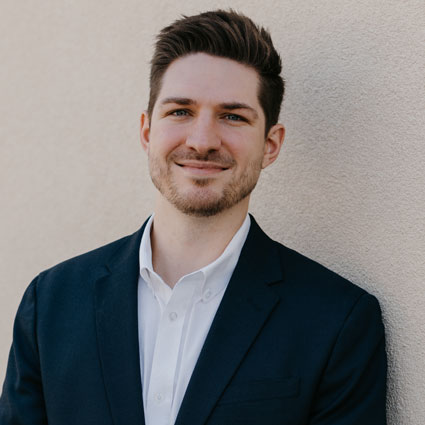 Coming from a family of teachers, Dr. Effertz felt certain he would enter the teaching profession. He loved helping people learn and became an Elementary Education major when he enrolled at the University of Wisconsin-Eau Claire. While there, he played basketball and continued regular chiropractic care, as he had throughout his life.
A conversation with his aunt and uncle, who were chiropractors, made Dr. Effertz rethink his chosen path. He realized that he could teach people how to better themselves and act as their coach in health as a chiropractor. The more Dr. Effertz thought about it, the more chiropractic made perfect sense for his future career.
A Comprehensive Education in Natural Health
To gain a chiropractic education, Dr. Effertz attended Palmer College of Chiropractic in Davenport, Iowa. As he went through school, his passion for the natural power in the human body grew. "We're built to stay well. We just have to take care of our bodies."
He earned a Doctor of Chiropractic in October 2018 and began practicing in our community. In November 2019, Dr. Effertz joined the team at Effertz Chiropractic and Wellness Center, Inc., taking over from Dr. Weber a couple of months later.
EXPLORE CHIROPRACTIC »

Living an Active Lifestyle
When he isn't in the office, Dr. Effertz enjoys taking care of himself. He loves to exercise and cook healthy foods. As a Wisconsin sports fan, you can find him cheering on the Brewers, Badgers and Packers. He loves playing sports as well, particularly golf during the summer months.
We participate with many insurance plans, including Medicare. Contact Effertz Chiropractic and Wellness Center, Inc. today to schedule your first appointment!
---
Dr. Eric Effertz | (815) 747-6548